I got all packed up and made piz­za dough/pizza for din­ner while Mohamed and Eri­ca went to a back-to-school night for Abdu. I had brought Abdu home after going to the Island Rec Club my last day, and Eri­ca took Maus­ki for the sec­ond day of try­ing to get her fin­ger­print­ed. The kids and Eri­ca helped when Maus­ki and Eri­ca got home. Din­ner turned out great. Eri­ca and Mohamed ate after they got home while the kids and I were upstairs watch­ing a movie.
Lat­er, I tried to sleep, but couldn't. The last cou­ple hours before my cab came to take me to the air­port (at 2:30 am), I spent just lying in bed and rest­ing beside Maus­ki. My flight was at 5:15 am and I arrived back at LAX at 10:45 am the same day. Wow.
For any of you who have trav­eled a lot, this pho­to jour­nal will prob­a­bly be bor­ing. But there are a few things that even you may not have seen. I flew on Saudia Air­lines, the offi­cial air­line of Sau­di Ara­bia. They had the only non­stop flight to and from Jed­dah from LAX.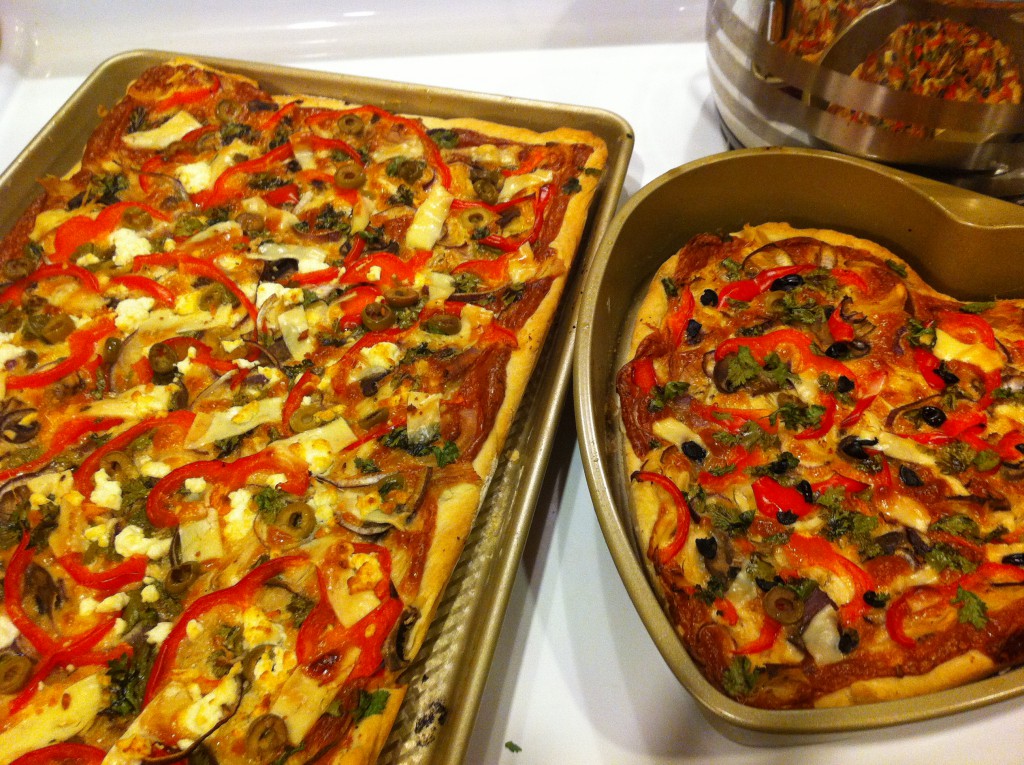 Abdu… the mas­ter of dress­ing in lay­ers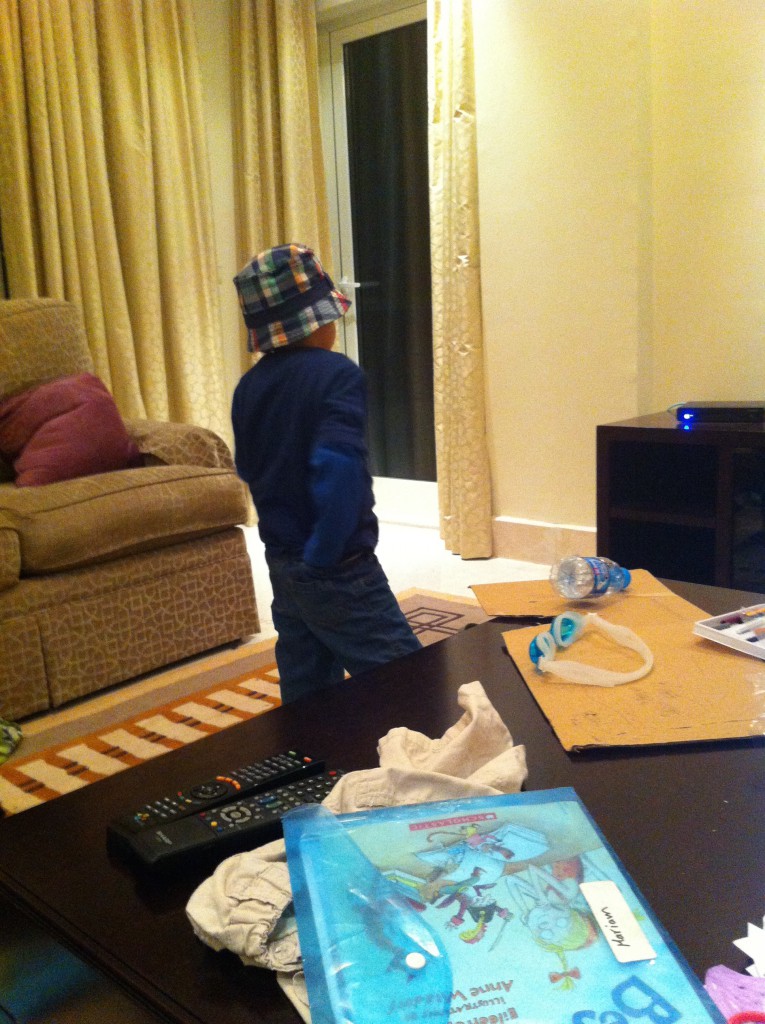 In the back of the cab on the way to Jed­dah. The cab dri­ver was nice and asked if I would like to live in Sau­di Ara­bia. I said no, that I liked where I live. But I like to vis­it. He was quite talk­a­tive.
This is the gate for my flight. These guys were just loung­ing there until about half an hour before our flight was sup­posed to leave. The mens' line is on the left with the tra­di­tion­al met­al detec­tor like we have in the US. I'm in front of the women's entrance. I had to put my car­ry-on and my purse on the x-ray con­vey­or belt, then go into the enclosed area where there were sev­er­al women wait­ing. One had a met­al detect­ing wand and asked that I put my arms out to the sides while she went over every inch of me with that thing. When it beeped, she would check to make sure it was jew­el­ry under my scarf, or what­ev­er. Same thing turned away from her. This was the sec­ond booth I had to go through like this. They had me start up my lap­top com­put­er when I got out of the booth and they checked my Nikon as well. Any secu­ri­ty check in the air­port didn't have the 'no liq­uids' sym­bols and the like… they had sym­bols for 'no hand­guns'… 'no bombs'… that type of thing. It was pret­ty strange.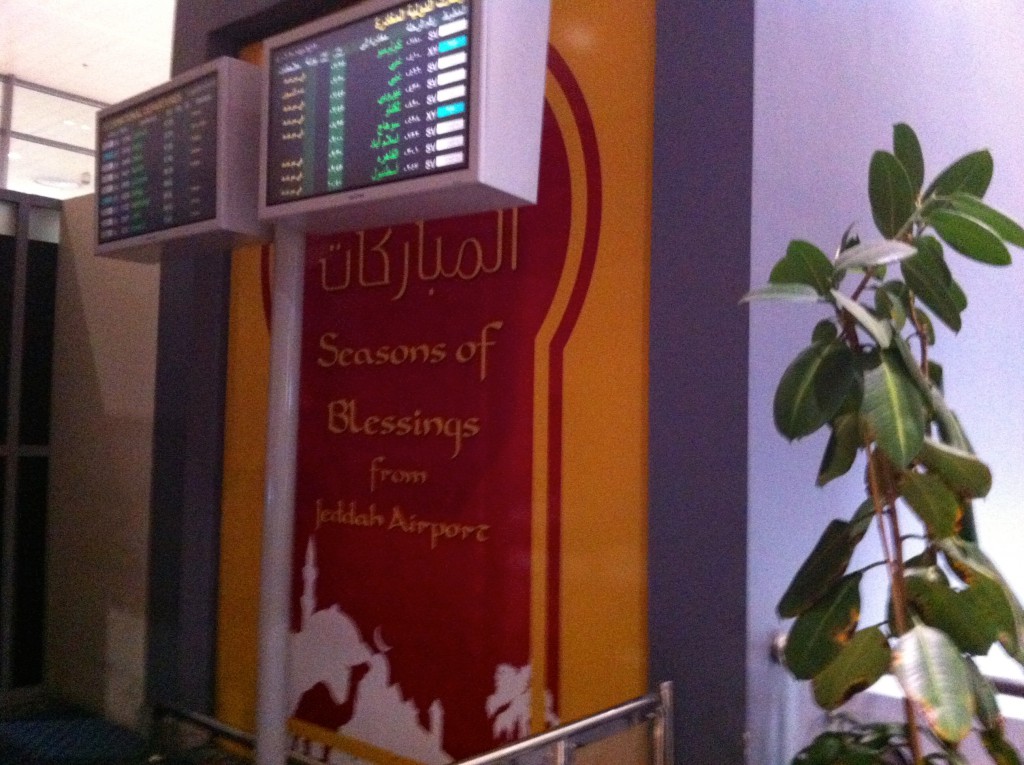 This was the glass enclosed area we were to wait in until they were ready to trans­port us to the plane. At that point, we were all herd­ed down the esca­la­tor and ONE guy was there to check to make sure we all had a cer­tain stamp in our pass­ports that we were to have received at an ear­li­er stop in the air­port cus­toms area. We then got on to a tram and were dri­ven out to our plane.
Out the win­dow of the plane before take­off
Awhile after they served break­fast, they brought around these hot 'cheese sand­wich­es' and wee muffins. Of course there was no alco­hol served on the plane.
Some of the rotat­ing views on my mon­i­tor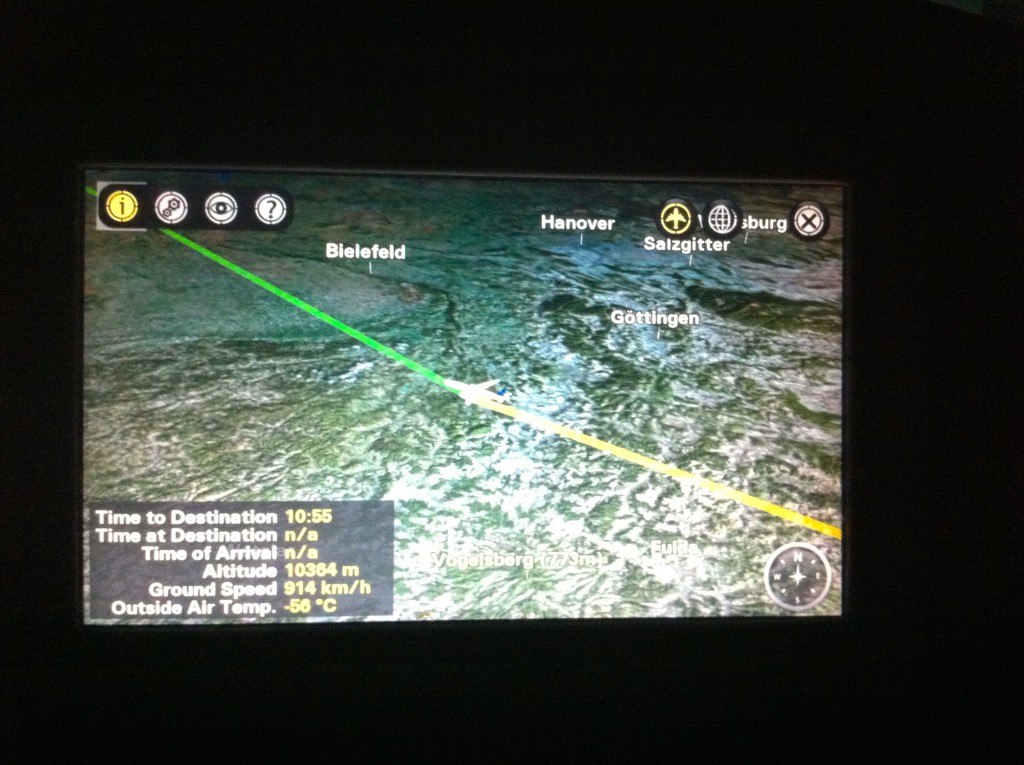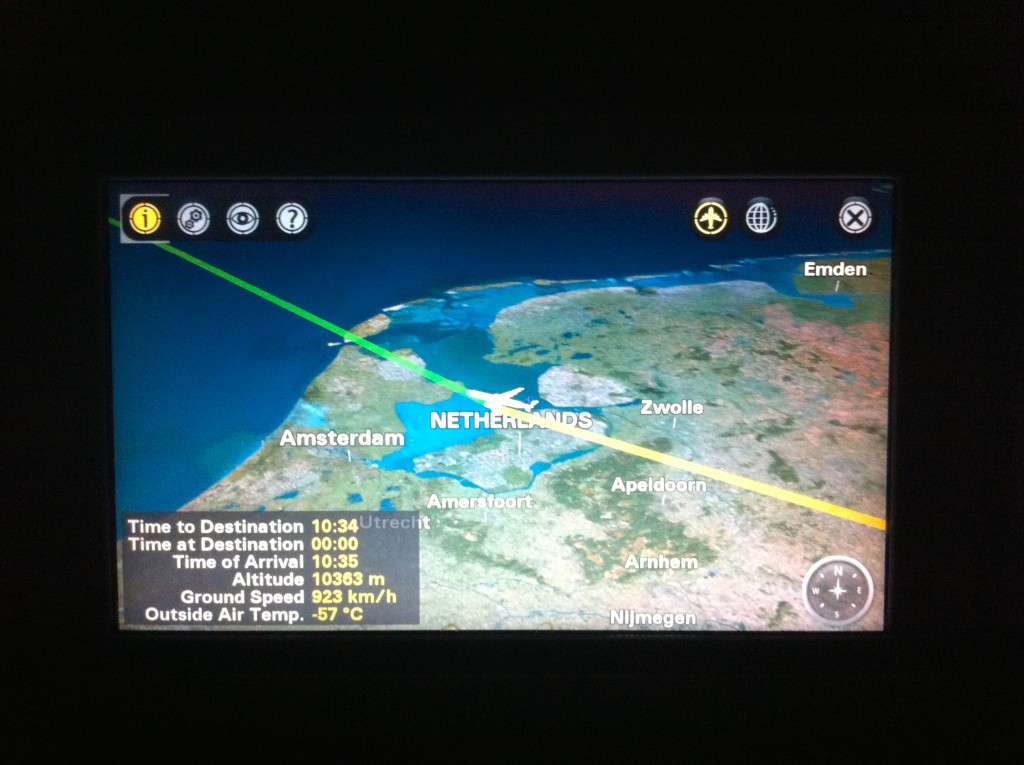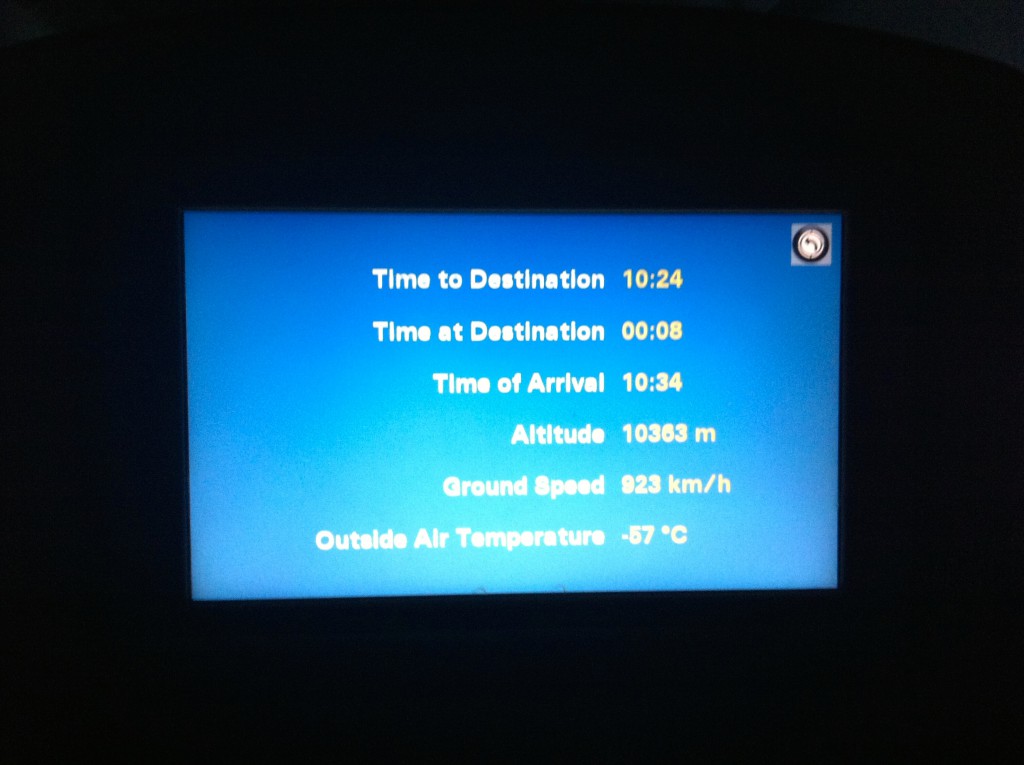 Some of the cen­sor­ing shown here in a movie I watched. Any time there was cleav­age or short skirts/shorts, that area on a woman would be pix­e­lat­ed. Pro­fan­i­ty was also cen­sored.
The cab­in inte­ri­or. The flight was maybe one quar­ter capac­i­ty.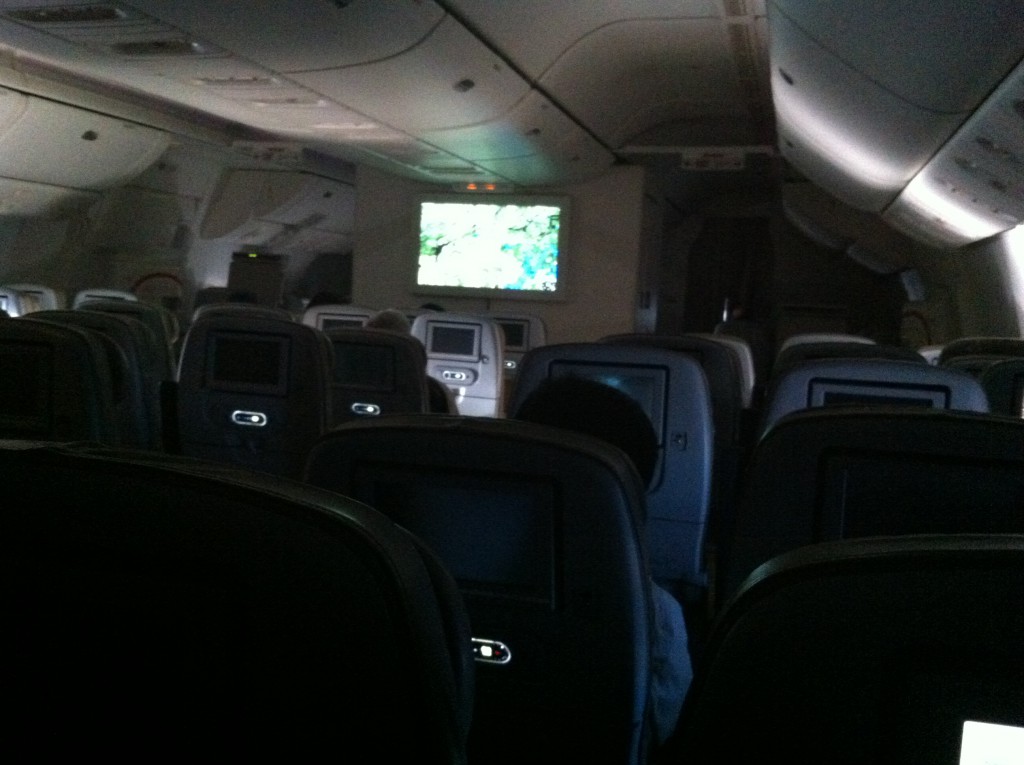 Yes, it was a VERY long flight… over 16 1/2 hours long via the polar route, but thank­ful­ly a non-stop. No point in mak­ing it even longer!
Get­ting clos­er…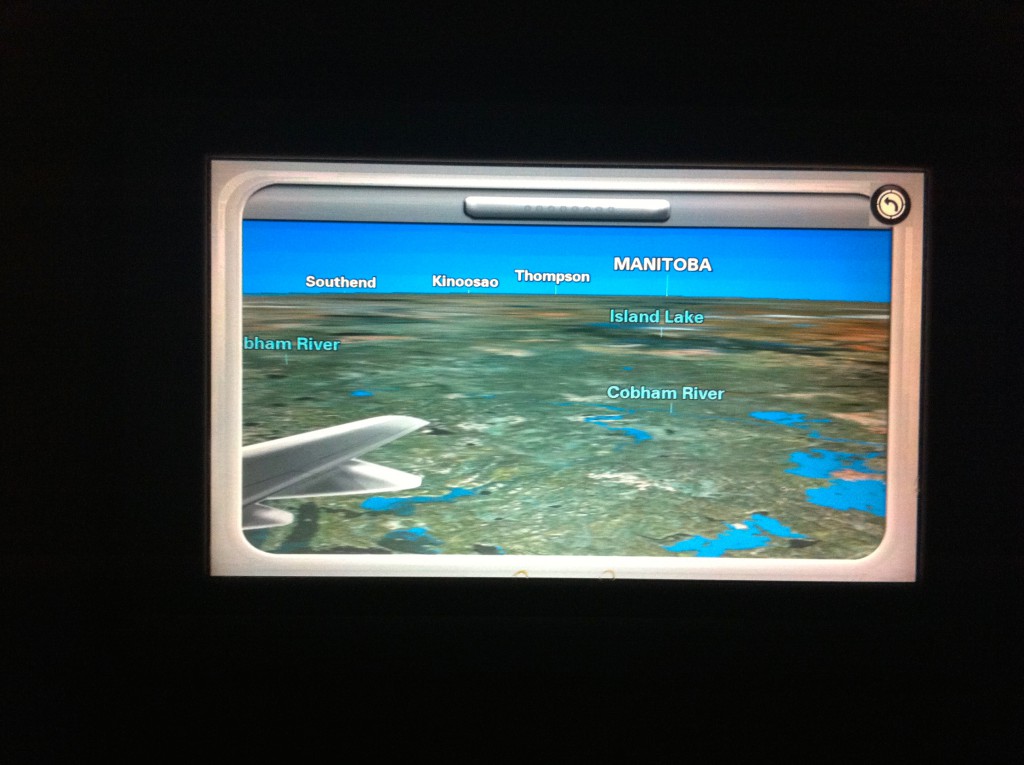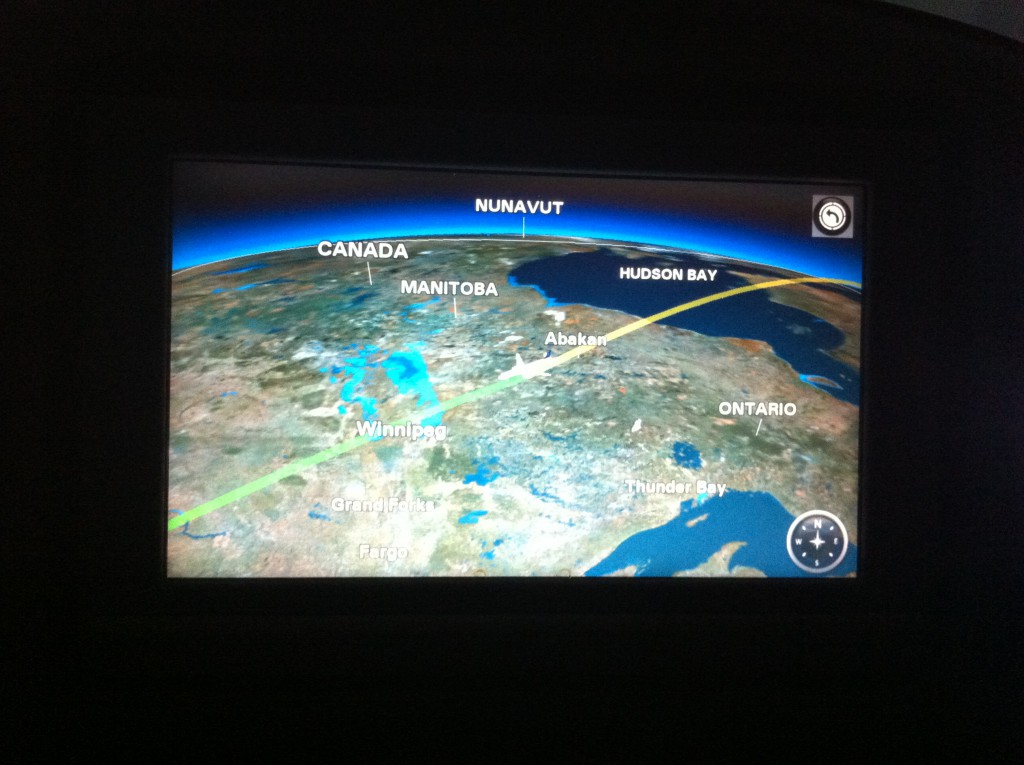 For din­ner, I had the mas­soud… a type of fish served with spicy bas­mati rice. There was also a 'seafood sal­ad' that looked like I might get food poi­son­ing (the mayo looked old), but I did fine. I didn't eat the let­tuce in the sal­ad. It was awful. Or the toma­to. That is some kind of white bun, a date and wal­nut cake for dessert, and tea.
It looked bet­ter on the menu, but then gen­er­al­ly air­line food is uni­ver­sal­ly bad. I couldn't wait to get home to fresh pro­duce!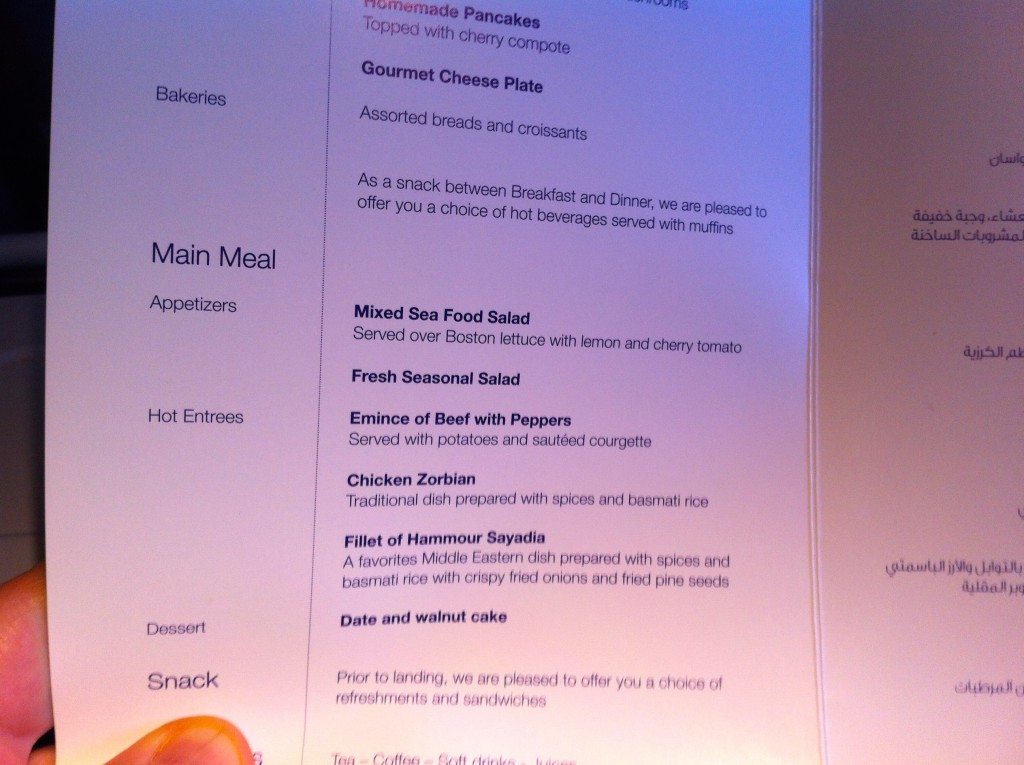 Snow on the Rock­ies… feels good to be in the US again.
A suc­cess­ful land­ing at LAX. Cus­toms was a breeze (elec­tron­ic dec­la­ra­tion machines) and a 'wel­come home' from the cus­toms offi­cer. Hap­py to be home. And although it was hot when I land­ed, it has since cooled down. Glad I didn't miss all the cool weath­er!